Inicio
>
Noticias y Anuncios
NIC Chile invitation to Internet Days activities organized by the ISOC in Central America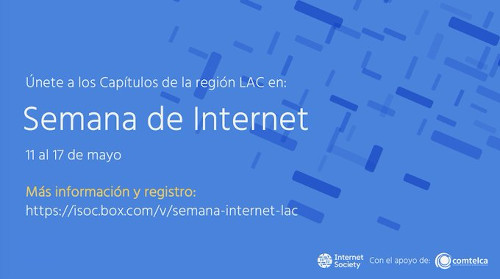 NIC Chile invites you to take participate in the May 11-18 activities celebrating Internet Days in Central America. The event has been jointly organized by Internet Society Chapters (ISOC) from Panama, El Salvador, Honduras, Costa Rica, Guatemala, Nicaragua, Colombia, Mexico and Dominican Republic, with collaboration by the Comisión Técnica Regional de las Telecomunicaciones.
The training program's seminar agenda and web panels, along with experts and Internet specialists, will address key themes for the particular region.
The virtual and cost-free sessions have a one-hour duration. You may access the list of sessions and register at: https://isoc.app.box.com/v/semana-internet-lac.
NIC Chile
Santiago, May 12, 2020.
---
About NIC Chile
NIC Chile, a center of the Faculty of Physical and Mathematical Sciences of the University of Chile, is in charge of administering the domain name registry of .CL, that identifies Chile in the Internet. In this role, it is responsible before the local and global Internet community for its secure and efficient operation, to allow persons, enterprises and institutions to build their identity on the Internet, under.CL.
Clientes Registrados
Si ya posee cuenta en el nuevo sistema: