Inicio
>
Noticias y Anuncios
NIC Chile: 25 years managing .CL
Reason to celebrate, many. Pioneers in Internet domain name registration in the continent, administrators of .CL with high standards and achievements in terms of procedures, up-to-date technology and cooperation with the growth and stability of the Internet.
Announcing new projects and highlighting the collaboration in initiatives important to the global Internet infrastructure, Patricio Poblete, Director of NIC Chile opened the ceremony celebrating 25 years of existence of the entity, held at the Centro Cultural Gabriela Mistral , on June 5.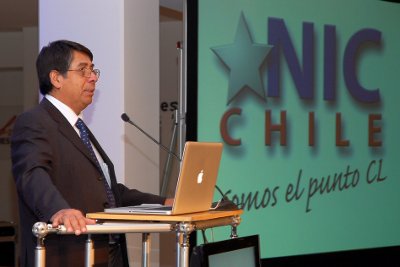 At the ceremony, attended by senior representatives and digital development actors in the country, Latin America and the Caribbean, the Director of NIC Chile, Patricio Poblete, gave a brief summary of this history, recognizing that, looking back a little, " it is unlikely that anyone had imagined what would happen in 25 years, what we do now with the Internet. Minutes ago, before the start of the ceremony, we were displaying the transit of Venus across the Sun. In the past, Captain Cook had to go to Tahiti to see it, now follow the phenomenon from our laptop or smart phone, connected to Internet" .
In turn, the Director of NIC Chile described the trajectory of the entity as "steady growth. In 1997 we had little more than a thousand registered domains, and three years later it was nearly 50 000. Today, we are getting close to 400 thousand, there is a very enthusiastic adoption of .CL in our country: it is one of the country domains with more registrations per capita in Latin America, it is the most widely used within the country (in other countries other global generic domains such as.COM dominate) and most people who register domains are individuals; we attribute this to many causes, including having started early, having had from the very beginning the beginning a process as simple as possible, without red tape and bureaucracy, which made it very easy to get a .CL.
In 1997, when NIC Chile started in a more formal way, it quickly distinguished himself by introducing a system for resolving domain name disputes, based on arbitration, which pioneered this method in the world, similar to the UDRP adopted two years later by the international community. Patricio Poblete said that "although it is a highly efficient, we are working hard to make it even better, reducing processing times for arbitrations, introducing online arbitration soon, all pf them mechanisms to remove barriers to entry for those who want to participate" .
He also referred to the technical strengths of NIC Chile, which allow compliance with the premise that a domain -be it.CL or any other- should work always. "Every time someone uses a .CL domainfrom anywhere in the world, that name should be translated quickly and very reliably to an IP address. For this to happen, we have a network that already has close to 60 name servers,distributed throughout the world, where each one is able to respond to queries for .CL.This network continues to function despite failures of particular hardware or links. It even allos us to provide name resolution services for other ccTLDs, like Panama, Venezuela, Spain and Costa Rica, using our infrastructure. We have also collaborated with the ongoing initiatives to strengthen the global Internet infrastructure, through the installation of mirror copies of root servers (F and L), which also allows Chile to be better prepared to access the global network " .
Providing a quick overview of what NIC Chile is doing currently, Poblete said they are preparing their policies and procedures so that .CL can be inserted properly in the world, working in conjunction with the National Council for Domain Names and IP Numbers, developing new policies that will include changes so that a domain name is registered as soon as it is requested and paid for, eliminating the pending period that exists today, also adapting the existing dispute settlement system, and adopting the EPP protocol, which will allow it.CL to be sold worldwide through international registrars.
Technically, highlighted two major projects currently underway, such as the implementation of the DNSSEC protocol, which greatly increases the DNS system security, through cryptographic methods to authenticate the origin of the data and ensure integrity, and adoption of the new IP version 6 protocol, which allows NIC Chile to participate decidedly in the world launching of the protocol that begins on June 6.
A remarkable career
Following the words of Patricio Poblete, Rodrigo De La Parra, Vice President for Latin America of ICANN (Internet Corporation for Assigned Names and Numbers), recalled the award received by NIC Chile at the ICANN meeting in San Jose, Costa Rica, in March this year, at which time were honored the ccTLDs that in 2012 turned a quarter century old, two of which (Chile and Argentina) are from Latin America. "At this juncture, in discussions on Internet governance, the existence of institutions and organizations as solid as NIC Chile, confirms that the current model that we are the participation of all actors is the right one."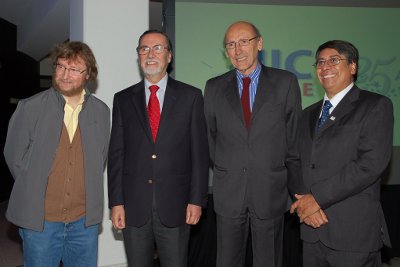 Continuing the anniversary ceremony, the Dean of the Faculty of Physical Sciences and Mathematics (FCFM) of the University of Chile, Francisco Brieva highlighted NIC Chile as "a unit operating within our School, built thanks to people with talent and new ideas, with entrepreneurial spirit, and that there was an investor -our university- which subsidized for a long time this organization. It is the first spin-off of the national university world."
For his part, the Rector of the University of Chile, Victor Perez also spoke to represent in the founders of NIC Chile, Patricio Poblete and Jose Miguel Piquer, the effort to make visible and viable an important issue for the whole country, "visibility that becomes of all, because it is not necessary to go saying that this is from the University of Chile. They have given the country an internationally recognized entity. "
In the meeting videotaped greetings were also played, sent by international figures such as Vint Cerf, one of the creators of TCP/IP and currently Chief Internet Evangelist of Google, and Rod Beckstrom, CEO of ICANN, who recognized NIC Chile as an example of leadership and sustainability in the region.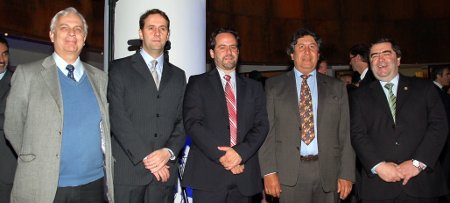 The ceremony also had a space to salute and recognize employees with a long and distinguished career in NIC Chile, some of which had been since its beginning.
After the meeting, attendees were treated to a copy of the institutional report that tells the history and achievements of the first 25 years of NIC Chile.
View the greetings of Internet personalities for the 25th anniversary of NIC Chile in our YouTube channel youtube.com/NICChile.
NIC Chile
Santiago, June 19, 2012.
---
About NIC Chile
NIC Chile, a center of the Faculty of Physical and Mathematical Sciences of the University of Chile, is in charge of administering the domain name registry of .CL, that identifies Chile in the Internet. In this role, it is responsible before the local and global Internet community for its secure and efficient operation, to allow persons, enterprises and institutions to build their identity on the Internet, under.CL.
Clientes Registrados
Si ya posee cuenta en el nuevo sistema: